Making and doing evidence of engagement in delivery of government services in Ngukurr for the Northern Territory Government
On this page I reflect on collaborative research work undertaken with Ian Mongunu Gumbula and Mercy Djungmali Gumbula, along with another local researcher, Gwen Rami, in considering means for creating evidence so that it could be read as evidence by those who had contracted us to do the research.
Our initial work took place in Ngukurr in south-east Arnhem Land, where the authors worked together on a project called 'Remote Engagement Coordination – Indigenous Evaluation Research' (REC-IER) in 2016-17. We worked collaboratively to generate video footage and audio recordings of local people in Ngukurr talking about the engagement of government officials as they provided government services, as well as footage of community meetings. This footage was intended to evidence government engagement practices in the community.  When this footage was sent to the Northern Territory government who commissioned the research, they could not 'read' them, experiencing what we thought of as evidence as illegible. We began to feel our ways towards other sets of practices which began to work evidence as complex and multiple.
By Jennifer Macdonald
---
The research project displayed here involved the state contracting CDU researchers to work with local Indigenous researchers to inquire into the modalities of engagements between agents of the state delivering government services and the residents of remote Indigenous settlements. First, Ian, Mercy and Gwen translated the description of the project into Kriol language, decided on interview questions, and listed who we needed to interview. After consulting with elders and community members, they inquired into the modalities of government engagement in Ngukurr and created evidence by making videos and voice recordings of local residents telling stories of what they regarded as good engagement and coordination in delivery of government services. Ian, Mercy and Gwen always led into their interviews by inviting people to announce their place in the kin system, establishing clan name, skin name, country, language, totem and moiety. In other words, in creating 'evidence objects', the Indigenous researchers took care to make space for Ngukurr residents to elaborate their position within the 'other', traditional governance system through which power is wielded and community life organised. In Ngukurr this alternative governance system sits side by side with the modern Australian state system. Like its counterparts in other parts of Australia, it proceeds through membership of land-owning clans.
In Ngukurr, generating research stories as evidence in the form of multimedia files meant contending with a myriad of challenges. Gwen preferred to work in the morning when it was cooler, and, without a car, she would walk to the community store to find people to talk to. They would then find a shady spot to sit to do their interview. Ian preferred to work in the afternoon after Mercy finished work at the school. The voice recorder often ran out of batteries or was not turned on properly at the start of an interview. The team ran out of plain language statements and consent forms and could not find anywhere to print more. They also could not find anywhere air-conditioned to sit for their interview – it was build-up season, hot and humid (average 42°C).
Ian and Mercy, in Ngukurr, 2017: This work would be much easier if we had a computer. Then we wouldn't have to go to other organisations to ask them to send emails for us, or to use their printer. It would be very good to have an office space that we could use whenever we need to work. At the moment, we have to work at our houses and there is a lot of noise and family interruptions. We are telling you this story sitting outside at Gwen Rami's house and it is very windy and hot. It is hard to concentrate on work when we have to work from home.

We are being asked to do a lot of work here in Ngukurr now and we need a way to organise that work. We could have a calendar in the office which shows movement for all of us, where we are working and who we are working with. It would be better to have discussions in an office than outside around Ngukurr, and then we could take notes on butcher's paper. It would also be easier for planning projects before we undertake that work in the community. We could invite the board members of all the organisations to our office to hear about projects, as well as have meetings with Elders from the seven clans, so the community knows more about what we are working on.
It was also a challenge to make the stories travel from Ngukurr to Darwin so they could provide feedback to government around their engagement practices. Ian, Mercy and Gwen needed to upload the videos from the tablet to a joint Google Drive in Ngukurr, which I could then download at CDU in Darwin. Before this was possible, Ian, Mercy and Gwen had to set up their email addresses, learn to send emails, and upload files to the Google Drive. Without an office to work from, the researchers had to make a time with a community organisation in Ngukurr to use their computers, like the Art Centre, the Language Centre or the Shire. Through this process, interview videos slowly arrived in Darwin and were sent to senior CDU researchers to have their most relevant comments on government engagement spliced together. The editing process required amplifying the sound of the interview and trying to remove background noises (barking dogs, yelling children, loud music).
An example of such multimedia files produced as 'objects' to evidence both the work of the Ngukurr research team, and what Ngukurr residents felt about the services that the government provided and how they did so, is presented here, with Gwen Rami speaking to Doreen Daniels about government services in Ngukurr. More multimedia files are available on the REC-IER website:
Initially we all assumed that these objects would work as evidence, as a persuasive means to give feedback to the government department that had funded the research. Somewhat to our dismay the objects – the multimedia files – completely failed to work as evidence. As evidence objects, the audio and video recordings with their complex stories, descriptions, explanations and complaints, and very low production values could not be 'read' and understood by government officers.
Clearly, we needed to develop a finer-grained approach. We needed to focus on particular strands of governance and devise more focused evidence objects. The audio and video files generated as evidence objects in this initial work turned out to be the evidence by which we (the CDU researchers and the local researchers) could (re)design the project method. They turned out to be 'method evidence'.
Working with this 'method evidence' involved us listening together to the stories collected by the community-based researchers, and carefully discerning more precisely 'where' engagements were occurring and what some of the tensions were. Several new forms of evidence were subsequently devised. I display two of these devised to attend to local government engagement, particularly in relation to the Local Authority in Ngukurr.
There are 63 Local Authorities in local centres like Ngukurr, with Local Authorities constituting the local government level in the Northern Territory. Local Authorities operate under the warrant of ten shire councils, with Ngukurr Local Authority operating under Roper Gulf Regional Council. In Ngukurr, the Local Authority is made up of the elected members and nominated representatives from the community. All other stakeholders in Ngukurr are invited to attend Local Authority meetings. The resolutions made at these meetings form the basis of all planning made by Roper Gulf.
In researching engagements carried out under the remit of the Local Authority, Mercy, Ian and Gwen undertook two separate initiatives. They attended Local Authority meetings and, with agreement, recorded the meetings using iPad video software. In generating evidence about this particular form of engagement, we produced short 'Feedback Reports'. They also interviewed members of the Local Authority. We generated evidence from these interviews as 'Vignettes' that pulled out insights and emerging outcomes.
Feedback Reports
Feedback reports included an evaluative summary from the Ngukurr research team, comments from the community-based researchers, and comments from CDU researchers. The report presented here refers to communication practices in the conduct of meetings. These feedback reports were made available both to the Local Authority members and to the government department for which the research was being conducted. As evidence, these 'objects' embed knowledge claims in the form of an evaluative summary. They perform as part of a complex assemblage in which the explicitly agreed upon collective action of researcher participation in a Local Authority meeting, the proceedings of which are visibly being captured, and the report card, form integral parts. This particular evidence object which emerged as an acceptable outcome in the research project came to life in an elaborate process of constituting legibility. The evidence object carried within it evidence of the context of its constitution, evidence of the presence in place of those generating the assemblage, a local researcher judgement, and an evaluative judgement sourced in the academy, the contracted research institution.
Vignettes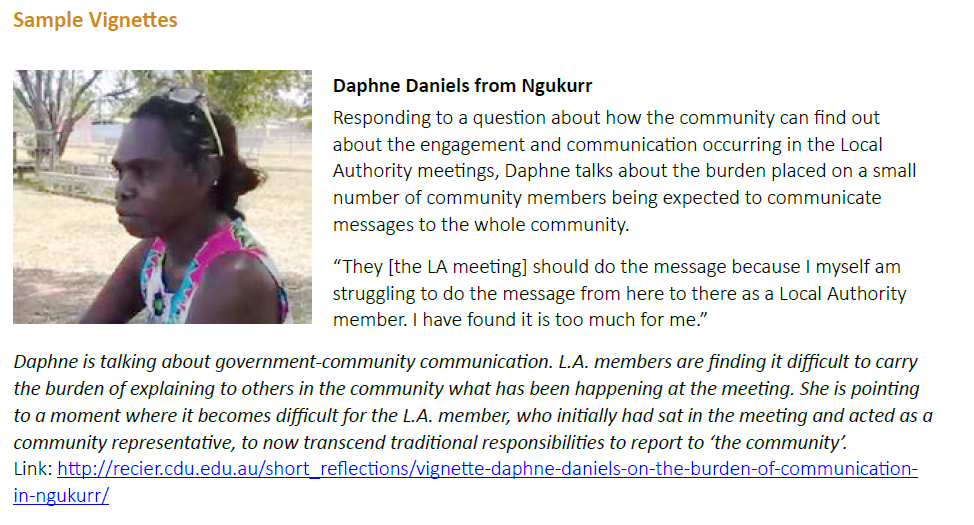 'Vignettes' showcased the responses of interviewees talking about government engagement. The Vignette displayed here also relates to Local Authority forms of engagement. As evidence objects, the vignettes are less complicated than the Feedback Reports. In textual form they provide context, introduce the informant, offer a salient quotation from an audio file, along with an image. Perhaps most significantly, they also offer social interpretation. In the vignette displayed here the evidence object acknowledges that Daphne, who has roles in two governance systems that only partially link, expressed anxiety over clashing accountabilities. These highly curated evidence objects are legible to government officers who may never have visited Ngukurr.
When we started out in REC-IER, we had a simplistic understanding of the concept of evidence. We failed to recognise that generating legible evidence would involve far more than translation and judicious editing.
---
Jennifer Macdonald is a CDU-CSIRO Post-doctoral Research Fellow at Charles Darwin University.
Ian Gumbula is a Yolŋu Gupapuyngu Elder who grew up on Elcho Island. Ian is the son of Djapani Gumbula, his country is Djiliwirri, his skin name is Burlany and his dreaming is emu.
Mercy Gumbula is an Alawa woman from Ngukurr. Mercy's country is Nanguya, her skin name is Galijan and her totem is quiet snake. Ian and Mercy work together for Gumbula Consultancies and are often employed at Charles Darwin University as community-based researchers.