Making and doing identity in learning an Indigenous Australian language online
On this page, we share the story of a project which collaboratively developed an online course teaching an Indigenous language from the Northern Territory. Collaborative design with speakers of the language aimed to incorporate local pedagogies while also meeting the needs of mostly non-Indigenous learners learning online and away from country. The project involves members of the Bininj Kunwok Regional Language Centre working with academics from Charles Darwin University, which now runs the course for undergraduate and postgraduate learners. In this analysis, what counts as 'identity' is expanded, and the criteria for showing identity are co-constituted with this showing of a way to see 'identity work'.
By Cathy Bow
---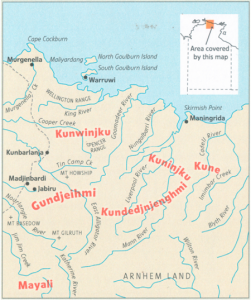 The name 'Bininj Kunwok' refers to a chain of six mutually intelligible languages which stretch from Kakadu National Park across Western Arnhem Land.
The online Bininj Kunwok course was designed for university students at Australian universities, but the committee also wanted local professionals to have access to the materials, as they had regular interactions with Bininj.
As we collaboratively developed the curriculum, the Bininj elders shared what they wanted non-Indigenous learners to know. They thought about what Bininj children need to know to grow up in good relationship with people and with country.
For Bininj, who they are in the world would emerge in teaching their language to strangers. This focus  on identity – knowing who you are and where you come from and how you interact with people – became the cornerstone of teaching and learning.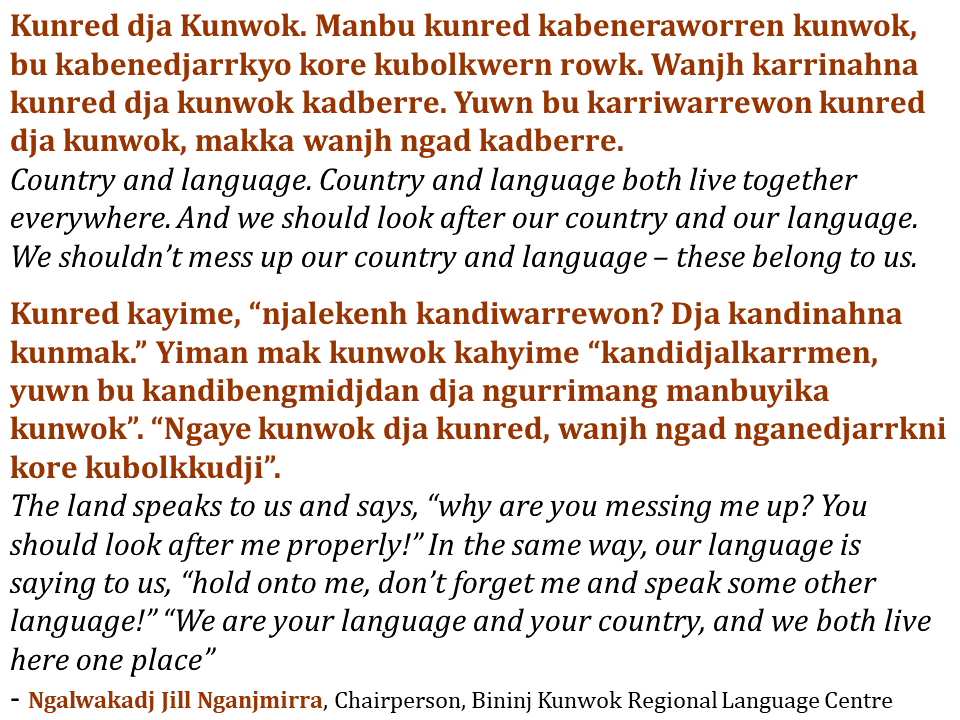 Doing identity for Bininj people involves multiple layers of connection – particularly kinship which forms the basis of all social interaction, and direct all interpersonal relationships in a particular group, and pervades every aspect of social organisation and structure. Naming practices usually involve a kin term and/or a skin name rather than a personal name.
Skin names are established from a set of 8 categories arranged by patrimoiety (Duwa or Yirridjdja, represented by D and Y on the chart) and matrimoiety (Ngarradjku or Mardku), which encapsulate specific kinship connections. Every member of the community belongs to a specific subsection which determines how they relate to everyone else in the community.
Each skin name has a male (starting with Na-) and a female version (starting with Ngal-), and the system determines marriage rules, where people must marry across different moieties. For example a Ngalwakadj can marry either a Nangnarrdij or a Nabulanj, and their children will be Nabangardi or Ngalbangardi.
Even non-Indigenous people can be given a skin name, which situates them in this complex network of relationships with all people. Learners in this course took on skin names to connect them to the Bininj teachers and to other students.
The Bininj language owners used identity work to guide the construction and negotiation of this curriculum. The course included curated and created materials designed to teach in various ways about identity through cultural concepts such as the skin system, kin relations, terms of address and terms of reference, family responsibilities, etc.
The multiplicity in the concept of identity here emerges from thinking about the unexpectedness of its emerging as part of the curriculum design, and also noted by the learners as an unexpected but rewarding outcome.
Understanding and learning to use terms relating to identity and relationship give learners an entry into Bininj society, even for those who may never physically enter that world. The project drew on Indigenous pedagogies and social structures to create new modes of personal connection in ways that are appropriate to the university context and the Indigenous language ecology in which the course is situated (Bow, 2019).
Identity work is managed differently in Bininj and non-Indigenous contexts – it could be argued that in English and other European languages that identity is understood as DIFFERENTIATING the one who is speaking from those who are listening. But in Indigenous Australian languages it is done routinely in RELATING the one who is speaking to those who are listening, through the types of connections described here.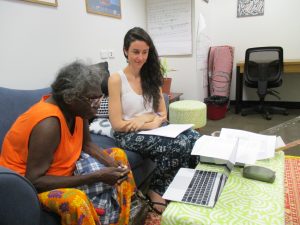 Doing this type of language work involves identity work, as the Bininj authorities expressing their pedagogical practices through insisting that the first thing learners should understand is about identity through kinship and skin systems. This identity work was then mobilised by the learners who select a skin name which entangles them in the network of Bininj relationships. Their identity as a learner is configured as a partial insider, a legitimate peripheral participant, from which to make their own connections to people, place and language.
---
In this video, Ngalwakadj Jill Nganjmirra introduces herself in Kunwinjku language:
Ngaye Ngalwakadj Ngalburlarldjdja  I am Ngalwakadj (skin name) Ngalburlarldjdja (clan name)
Kunngey Balanda nganggeyo Jill    My Balanda (non-Indigenous) name is Jill
Ngaye ngamdolkkang Kunbarlanja beh   I come from Gunbalanya
Kunwok ngarduk ngawokdi Kunwinjku The language I speak is Kunwinjku
---
This time, Jill introduces herself slowly and leaves a gap for you to substitute your own information
Now it's your turn – try it yourself, substituting your name and information.
My name is _____     Ngaye ngangeyyo ______
My skin name is ______     Kunkurlah ngarduk _______
I come from _____     Ngaye ngamdolkkang ________ beh.
Now I live in ______     Ngaye ngahni kore ________
I want to learn Kunwinjku     Ngaye ngadjare ngaborlbme Kunwinjku
If you'd like to record your introduction you can post it to the comments below or email it for feedback.
If you want to understand the grammar in more detail, go to https://language-shell.cdu.edu.au/course/bininj-kunwok/lessons/grammar/. This is part of the pilot program created to teach Bininj Kunwok online and is open to everyone to learn.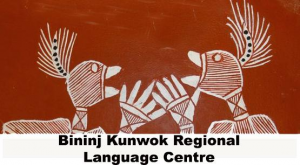 Bow, C. (2019). Collaboratively designing an online course to teach an Australian Indigenous language at university. Babel, 54 (1/2), 54–60.